Automate and customize your emailing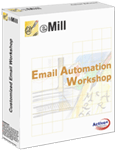 In today's market, email is a key tool for establishing a successful one-to-one relationship with your customers, your suppliers, your employees or your shareholders. Therefore, your organization needs a simple and efficient software that helps you implement and manage highly-focused emailing campaigns. These should meet the specific needs and characteristics of your leads, customers or members. But they should also allow you to stand out your message among your competitors and the growing number of unsollicited emails (spam).
From your PC or any web browser, eMill lets you handle all your communication by e-mail, from the creation of contents and lists to the sending and tracking of messages. Choose eMill and increase the profitability of your projects as well as your return on investment.