Convert any application to a native Service (.exe file)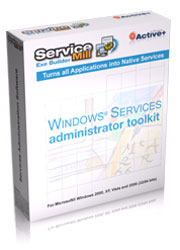 ServiceMill Exe Builder is an extension to the award winning ServiceMill product that lets you create standalone executable containing all required service files. Services created with ServiceMill Exe Builder can be redistributed royalty free. It is the fastest and easiest way to turn your Java, .Net apps, VB Script, batch files, graphical or console-based applications into a native Windows service executable.
ServiceMill Exe Builder helps you secure mission-critical applications, thanks to the service security model.